Friday Meditation
This class is taught by:
Hannah believes that yoga guides people home – making them more self-aware and enhancing their capacity for self-expression. Her specialty is helping individuals learn how to release tension in their bodies, center their thoughts and restore their sense of well-being. Her classes incorporate restorative yoga postures, breathing, relaxation and meditation strategies for releasing stress and promoting healing. She has been practicing yoga for over a decade. She has been teaching since she received her training in classical Hatha yoga in 2009. She completed studies in Yoga Therapy in July 2011 and studies in Ayurveda in 2013. This year she will complete her 300-hour advanced yoga teacher training.
Hannah's Clients Say:
"I enjoyed Hanna's class very much. I've not taken a meditative yoga class before. It both decreased a sense of agitation about a specific incident that occurred just prior to class, and boosted my energy level by freeing energy that had been trapped by the agitating situation." Barbara S., 10/15
"Great TGIF class with Hannah. Perfect way to end the week. Lovely studio too." Jane G
"Lovely TGIF class on Friday with Hannah. Just what I needed to end the week. Easy asananas then restore and relax." Jane G.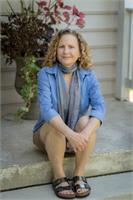 Francine's independent and intuitive yogic studies began over thirty years ago. First practicing with Lilias Folan via the rabbit-eared black and white t.v. screen on top of a dresser in her parent's bedroom, she's followed her heart through various paths and lessons ever since. Her roots stand firmly in the Hatha tradition and her primary influences from the alignment based branches of yoga continue to inform and inspire her.


Francine's Clients Say:
"It was my first time attending a prenatal yoga class (at 20 pregnant) and I left feeling so inspired! Francine is wonderful and let's you do everything at your pace and comfort level. I came in with back pain and left feeling no pain and excited about attending the next class!" Nadia J, 7/2016
"Very relaxing and friendly environment. The receptionist was very welcoming. I did pre-natal yoga. The teacher, Francine, was really nice to put me at ease since it was my first time. She also provided good advices during the lesson to do postures at the very best and after she recommended other courses I can attend in my conditions. I think it is a very good investment for yourself and I think I will also try the many other services they offer!" Francesca B., 10/15
"Francine is such a nurturing guide for all of the mamas in her pre and post natal class. She gently encourages women to stretch and build strength for their changing bodies while honoring the new life building within. She takes the time to get to know individual students and provides emotional as well as physical support. I recommend this class to all mamas!" Annie N. 11/2015
Transition from your week into your weekend with greater ease and joy. The hour-long practice includes breathing practices/gentle movement (done in a chair or standing) to release tension in your body, inspired guidance/wisdom teachings to focus your attention and settle your mind and a seated meditation practice. Making a mindful transition into your weekend will have ripple effects on your wellbeing and all those whom you encounter. This class is suited for beginners to meditation and also supports experienced practitioners wishing to deepen their practice in a group setting.
This class is offered by passcard.
Upcoming classes: