Don't Stress Be Happy Yoga
This class is taught by: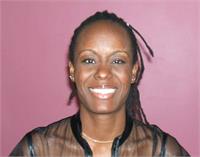 Shervon was first introduced to yoga in high school while in New York City. It was there that the seed of self-discovery was planted which has continued to grow and call her back to the mat time and time again as an adult. Shervon's commitment to personal practice led her to complete a 200 hour Vinyasa Yoga Teacher (RYT) certification in 2012 and a 50 hour advanced Yin Yoga Teacher Training in 2016.
Shervon enjoys teaching Vinyasa, Hatha, Yin and Restorative yoga styles to beginners, athletes and advanced students alike. Her background as a Licensed Clinical Professional Counselor (LCPC) inspires her approach as a teacher. The practice of yoga, similar to the process of counseling, allows one to look within to build self-awareness which informs daily life. Yoga has a beautiful way of clearing the mud away from the lens with which we see ourselves. Shervon is committed to nurturing the seed of self-discovery and personal growth in every student as it unfolds on and off the mat.
Don't Stress Be Happy! So much of our lives are spent doing, moving at a fast pace and trying to keep up with whatever life throws our way. Life can be stressful and may cause us to feel anxious. When do you take a break and allow yourself to just be? The practice of yoga is an "inquiry into being". What is it to be present in this moment? When we come back to presence, we bring balance to mind and body…Equilibrium. In this end of the work week class, you will learn how to use yoga poses, the breath and meditation as self-care tools to help you better manage stress and anxiety in your daily life.