Claudia Neuman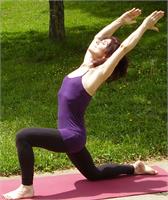 Claudia Neuman, E-RYT 500, YACEP, MSW. , was born in Los Angeles and began her formal yoga training in 1984 at Yoga works in Santa Monica, California. In the course of her training at Yoga Works, she was able to study with and assist some of today's top teachers, (Rod Stryker, Eric Shiffman) as well as study with Pattabi Jois, (the creator of Astanga Yoga). In 1993, she was initiated into the ISHTA yoga system by Rod Stryker. While at USC completing a Masters degree in Social Work, she taught yoga to students and faculty alike. In 2005 she received certification in Anusara Yoga from John Friend. In 2012 she began studying again with Yogarupa Rod Stryker in the Tantra tradition, completing several of the Para Yoga Master Training programs. Claudia's classes reflect her rich background of yoga experience as well as the love and dedication to her life-long practice of yoga. Look for Claudia's regular quarterly articles in Pathways Magazine.
Claudia Neuman instructs the following:



In Yoga I the emphasis is on developing awareness of the body and learning alignment. Students will be introduced to Sun Salutations and other basic poses, as well as breathing techniques.




For students with a good understanding of the basic standing, seated and revolved postures wishing to deepen their practice. This class will explore more advanced variations of asanas as well as introduce more challenging inversions, arm-balances and pranayama.




This contemplative practice utilizes modest floor poses to stimulate connective tissue giving particular focus to the hips, sacrum, low spine, and knees. Uniquely therapeutic and rehabilitative to these areas of the body, Yin Yoga is an excellent modality for providing a structural and emotional counterbalance to more muscular forms of asana and other "yang" activities.

This practice is appropriate for people who have resisted becoming active because of joint pain and is also ideal for athletes who experience joint pain caused by muscular overuse. The gentle but consistent stimulation to the connective tissues taught through Yin Yoga encourages long-term health and mobility of the joints, calms and recharges the nervous system, and naturally draws the mind inward into a relaxed, meditative state.