Hannah Leatherbury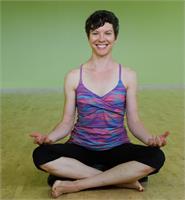 Hannah believes that yoga guides people home – making them more self-aware and enhancing their capacity for self-expression. Her specialty is helping individuals learn how to release tension in their bodies, center their thoughts and restore their sense of well-being. Her classes incorporate restorative yoga postures, breathing, relaxation and meditation strategies for releasing stress and promoting healing. She has been practicing yoga for over a decade. She has been teaching since she received her training in classical Hatha yoga in 2009. She completed studies in Yoga Therapy in July 2011 and studies in Ayurveda in 2013. This year she will complete her 300-hour advanced yoga teacher training.
Hannah's Clients Say:
"I enjoyed Hanna's class very much. I've not taken a meditative yoga class before. It both decreased a sense of agitation about a specific incident that occurred just prior to class, and boosted my energy level by freeing energy that had been trapped by the agitating situation." Barbara S., 10/15
"Great TGIF class with Hannah. Perfect way to end the week. Lovely studio too." Jane G
"Lovely TGIF class on Friday with Hannah. Just what I needed to end the week. Easy asananas then restore and relax." Jane G.

Hannah Leatherbury instructs the following:
Unwind from your week with a class that incorporates a slow-flowing, hatha yoga practice followed by deep relaxation through supported, restorative yoga postures - flow and let go.




Transition from your week into your weekend with greater ease and joy. The hour-long practice includes breathing practices/gentle movement (done in a chair or standing) to release tension in your body, inspired guidance/wisdom teachings to focus your attention and settle your mind and a seated meditation practice. Making a mindful transition into your weekend will have ripple effects on your wellbeing and all those whom you encounter. This class is suited for beginners to meditation and also supports experienced practitioners wishing to deepen their practice in a group setting.
This class is offered by passcard.




For yogis with some prior experience who are comfortable in Blue Heron's Yoga 1 classes. This class refines basic poses and gives the opportunity to work towards more advanced practices like arm balances, breath work, and meditation. Modifications and preparation poses are given so students can work at their own level. This class works to build strength and endurance for a deeper practice.




Come wake up with yoga. This all-level class offers vinyasa flow to wake up your body and get your day off to a good start and some restorative yoga to help you let go of tension. Vinyasa flow builds strength and flexibility and encourages cardiovascular health. Form, movement and breath work are integrated into carefully sequenced yoga poses. Prepare to work, restore, and move!




This class offers instruction and guidance in the practice of mindfulness meditation and teachings of awareness and compassion. The class includes practices that support opening to life and finding freedom in the midst of daily life. Brief gentle movement also included. Suited for beginners to meditation as well as offering support for experienced practitioners wishing to deepen their practice. All are welcome.

More Peace…Less Stress.
Tuesday Night Meditation focus for June & July
Meditation offers us the possibility of peace. A beautiful practice to support coming home into peace is training in the "Divine Abodes." These consist of loving-kindness, compassion, sympathetic joy, and equanimity. In June and July, join Rebecca to learn how to invite in and cultivate these qualities using specific practices to incline the heart and mind in meditation.

This class is offered freely on a donation basis*. Your donation is gratefully received and helps cover basic costs so that the practices and teachings of mindfulness can be offered regardless of peoples' ability to pay.

*Note: if you sign up online you will have to pick from a list of set amounts. Please pay what you can. If you would like to set your own amount come to class and pay at the front desk.