Angela White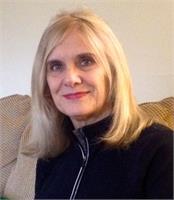 Angela White, MA, LMT, is certified by the National Certification Board for Therapeutic massage and is licensed in Maryland and DC. She graduated from Potomac Massage Training Institute in July 2011 where she worked in the Graduate Clinic until coming to Blue Heron in Spring 2012. In 2013, she attended the Washington Institute for Natural Medicine where she studied Reiki, Aromatherapy and Reflexology. Angela maintains a studio art practice, exhibits her artwork and teaches art. She appreciates the complementary nature of the healing arts and visual arts. Combining this knowledge along with her meditation practice, has allowed her to realize the mind/body/spirit connection and be more fully present in treatment and meeting the needs of the individual client.
Angela's Clients Say:
"The staff was warm and welcoming. My massage therapist, Angela White, really listened to my needs and responded with professional knowledge and skill. I felt fantastic when I left!" Amy R. 10/28/15
Angela White is currently not instructing any classes.