Matt DeStefano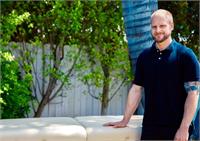 Matt is a Registered Massage Practitioner certified by the Maryland State Board and NCBTMB. He helps clients reach their wellness goals whether it's relieving the pain caused by everyday stress or chonric pain due to injury or illness. He specializes in deep tissue and trigger point therapy as well as reflexology. He has extensive experience with athletes of all ages and has worked with a wide variety of corporate clients.
See the buzz about Matt:
"Matt is very gifted, i highly recommend him for any athlete or person desiring deep tissue or sport massage with adequate pressure. I will keep coming back." Eric. S, 9/2017
"I like deep tissue work and I had an excellent therapeutic massage with Matt. He's very skilled and I've benefitted very significantly from his treatment - - this was especially evident on a recent trip in which I had none of the leg and hip pain that I typically endure following long flights, dragging luggage etc. Matt get 5 stars!," Myrna F., May 2017
"My two hour deep tissue massage with Matt DeStefano was one of the best therapeutic massages I have ever had! Matt took his time, was sensitive and diligent in carefully working through each affected muscle group to bring greater blood flow, mobility and energy to my body. I left there feeling so much better and truly healed. I returned to Matt the following Sunday for a full body, two hour massage to work out the remaining kinks and tightness. It was another heavenly experience. He touch is of a well seasoned therapist who has been providing these services for 10+ years, yet he has only been in this field for 2 years!!! You will be throughly pleased with his professionalism and masterful, healing touch! I also really enjoyed the deliciously soft, stable and warm massage table, soothing music and general comfort and beauty of the Blue Heron Spa! I highly recommend it! 5+ stars!" Saku, 8/2016
"Matt is a wonderful massage therapist who listened to my areas of concerns and focused in those areas. I already have next month's appointment setup!" Suzannah S. 7/2016
"My massage was wonderful, I can't remember having such a thorough deep tissue. I so needed it!
Matt was courteous and mindful during the massage. I will come back for another treatment with Matt." Debra B, 5/2016
"I suffered from chronic sciatic pain for two and a half years. After the first massage session with Matt, I noticed a huge difference in the inflammation in my leg. After the second session, it was completely gone. For the first time in my life I am able to drive long distances. I highly recommend him. His massage technique is the best I have come across this far in the Metropolitan area." AnneMarie P. 5/2016
"I had a massage with Matt last night and it was exactly what I needed - therapeutic and relaxing. He really honed in on the areas where I needed it most." Bruna G., 1/2016
Matt DeStefano is currently not instructing any classes.