Dr. Ali Perez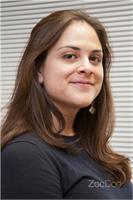 Dr. Perez is a chiropractor who believes in a holistic approach to her patients' health. She is a graduate of Palmer College of Chiropractic and is a Certified Chiropractic Sports Physician. Dr. Perez loves working with all people who enjoy being active. She uses a multitude of modalities and resources, such as trigger point release and dry needling, in addition to chiropractic techniques, such as Active Release Technique (ART), Flexion-Distraction - Cox, Full Spine, Graston, Kinesiotaping and Motion Palpation, to find the best form of relief or to help you maintain an active lifestyle.
See what Dr. Perez's clients have to say:
"The Practitioners at Blue Heron are knowledgable, helpful and friendly. Their treatments and advice have been life changing for myself and my daughter. We feel thankful to have found them."
Lucia D., 10/2017
"Dr Ali Perez significantly helped my arthritic neck and I walked out of Blue Heron feeling almost pain free." Candace G., 9/2017
"I brought my daughter to see Dr. Perez. She was extremely knowledgable and offered treatment options were assuring to both my daughter and myself." Lila G., Feb 2017

"Dr. Perez is very talented, knowledgeable and caring. She is a great addition to Blue Heron. The staff are friendly and very helpful. Highly recommend!" Rhonda N., Oct 2016
Dr. Ali Perez is currently not instructing any classes.