Anna Wolf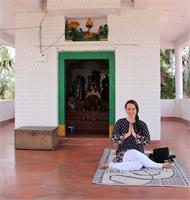 Anna's journey with yoga began in South India, where she explored the ancient traditions of Ayurveda and Vipassana meditation. Saluting the sun in the land where yoga was born revealed to her not only spiritual dimensions, but also the medicinal value of yoga for healing. After obtaining her RYT 200 certification through Blue Heron Wellness and becoming a licensed social worker, Anna has used trauma-sensitive yoga as a compliment to clinical therapies. Her eclectic blend of Hatha, Vinyasa and Yin modalities enable students to cultivate awareness of self in relation to somatic experience, facilitating deep release and energy transformation via focused breath and movement. Anna believes the body speaks through sensation, and yoga is a gift that helps us listen to this voice and tend to its messages.
Anna Wolf instructs the following:
Designed to both invigorate and unwind, this yoga practice will begin with a dynamic, flowing vinyasa sequence and end with a restorative sequence of poses which will send you into the rest of your day feeling relaxed and renewed.